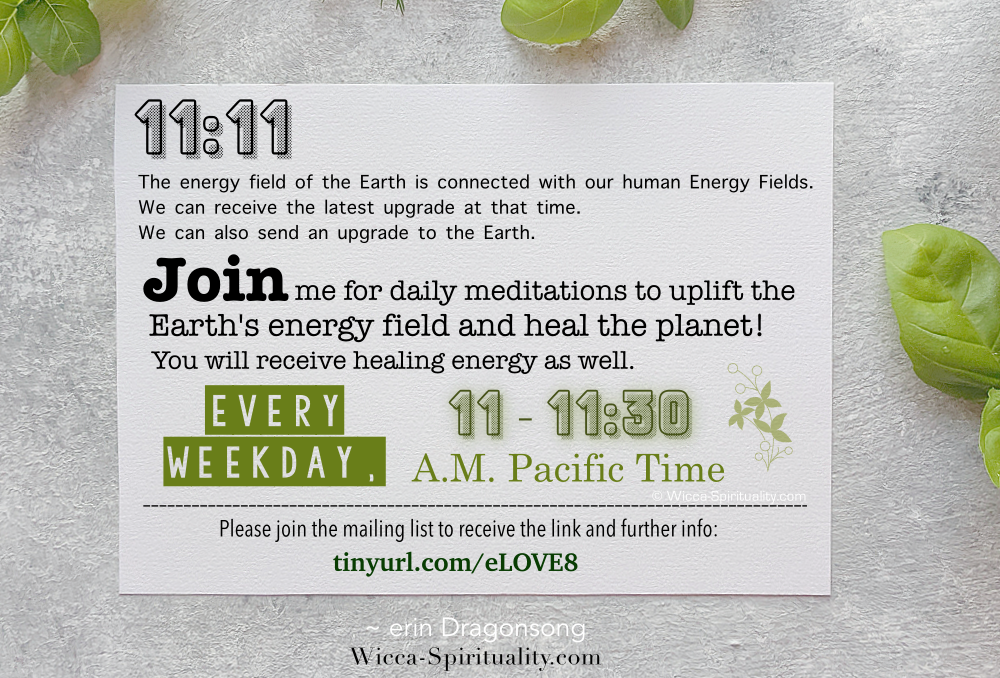 At this critical juncture, please join me in sending blessings - Love, Light, Peace, Harmony - to all the Earth.
Join in wherever you are at 11:11
Or join us on Zoom for daily guided meditation (subscribe to eLOVEation community for details)
For the good of all beings 

The Latest In Wicca Spirituality!
Faster than speeding email! Able to leap towering spam with a single bound! It's a bird, it's a plane, no! . . . It's . . . Super RSS!
Welcome to the Wicca Spirituality RSS feed! Thanks for joining us… Please check out the latest posts... (Below)
Witch Tip
This page lists only a few of the latest blogs. To get the whole list, subscribe to the Blog as explained here. Thanks!
NOTE: click on the Yahoo, MSN, or Google buttons (under the navbar menu at the left of this page) to add the Wicca Spirituality RSS Feed to your homepage on those sites.

Or, simply Right-Click on the orange XML/RSS button (that's Control-click for Mac), Copy the shortcut or link, and Paste it into your favourite news browser. That's it!

More info on this can be found at What's RSS. (Opens in new window.)

Wicca Spirituality Blog

NOTE: You can get more great Wiccan information, including Wiccan Sabbats, book reviews, and more, by subscribing for free to our e-zine. Also get free gifts for joining. Find out more at The Silver Chalice E-zine.

Get daily Wiccan guidance, quotes, and inspiration through our online communities on Facebook and Twitter!

The Goddess Akhilandeshvari: Matron Goddess of the Shift of Ages

Everything is breaking down these days: structures, lies, selfishness, even the ego. The Goddess Akhilandeshvari gives us courage. She shows us we don't have to resist or resent it when old ways die.

Continue reading "The Goddess Akhilandeshvari: Matron Goddess of the Shift of Ages"





---