You want to become a Wiccan, but you don't know how to start, or even what you need to know? It's like there's this aching chasm between where you are and where your heart yearns to be... because you want more than just going through the motions.
You want to experience something magickal, something truly transformative, something satisfying the hunger in your soul.
You're eager to jump in but there are so many books and websites out there! So many conflicting ideas. How can you make sense of it all? How do you know who to trust? I get it! For years, people have asked me these very questions, and then asked if I would teach them how to become a Wiccan. From listening closely, I realised that what was needed was
something you can only learn from a comprehensive course, walking you through the process step-by-step.
Something that not only teaches you how to become a Wiccan but
how to really experience all the magick and mystery and exhilaration that Wicca offers!
So here it is at last!
The acclaimed online Wiccan training course: A Year & A Day: 53 Weeks to Becoming a Wiccan
I'm ready to be a Wiccan! Sign Me Up! /h3>
No other course takes Wicca
to such realms of pure spirit,
and grounds spirituality so impeccably
with love for the Earth
In These Wicca Lessons You Will Discover...
Not just "what to do" but why it matters!
How to avoid the confusion of bits of information from here and there, and see how all the pieces come together
Practical, doable exercises that uncover your own special gifts and hidden spiritual powers
Countless tips that help you experience a deep personal friendship with life, the Earth, and the Divine
A level of personal power that allows you to follow your own unique path to the Divine
How to interpret the meaning of events and people (or animals, plants, etc) in your life, both "ordinary" and supernatural
Practices that increase your self-worth, self-awareness, and self-love
How to reveal your Life Mission and Purpose
The secret to finding time to weave Wicca — and spirituality — into your daily life
This alone is more than any other introduction to Wicca offers. And then it gets even better! I call it a Wicca course, but it's a lot more than that.
This is a transformational life experience.
A Year & A Day: 53 Weeks to Becoming a Wiccan
offers an entirely unique, groundbreaking adventure.
A Year & A Day is for people like you who feel called to Wicca as a potent spiritual path. For people who want to have the transformative, glorious, MAGICKAL experience that Wicca is meant to be.
Step-By-Step Guidance, Comprehensive & Clear
From vast experience in Wicca and other spiritual paths, as well as teaching these transformative spiritual skills, I've developed this course specifically...
to walk hand-and-hand with you
through your first year in becoming a Wiccan.
This thorough and well-laid-out wealth of insights and information guides you through
all the practical steps you'll need in your introduction to Wicca
...
Begin with your Dedication
Your year and a day starts with a simple yet powerful ritual that invites the Divine to support you in your growth as a Wiccan — you will likely experience a very magickal connection with the Divine from the very start!
Learn key Wiccan skills — and the secrets behind them
Not just how to Ground & Centre, Cast Wiccan Circles, invoke the Goddess and God... but what's far more important: WHY Wiccans do these things, and why we do them this way.
Create magickal altars
Create and use altars that others won't realise is Wiccan (if you don't want them to)
Find, purify, and bless the ritual tools that are just right for you
How to know what you need and what you don't, and the secret to finding the right magickal tools for you
Create rituals that ring with power and beauty
Ritual is central to Wicca, so you want to know how to make them effective, moving, transformative
Discover the Code that makes magick work!
Magick is both simpler and more complex than you may think, but I'll help you understand the underlying principles and secrets to successful magick
Celebrate the Sabbats and Esbats
The hidden meanings of these Wiccan holidays is revealed, along with many ways to celebrate
Sense, build, & move energy
Working with energy is the foundation of all the esoteric skills, especially magick, and these easy, down-to-earth exercises will make you a pro
Receive — and interpret — Divine guidance
The Divine is always communicating with you, it's just a matter of tuning in... and then understanding what it means. A Year & A Day: 53 Weeks to Becoming a Wiccan shows you how.
Develop infallible intuition
When you can feel what's the best choice for you and sense true from false, you regain a vital survival instinct to help you navigate through your life
Regain your innate psychic & telepathic abilities
All creatures are born with the ability to communicate without language and receive information beyond what the senses can perceive, you only need to rediscover and release this valuable esoteric skill
Your Wiccan Initiation
At last, the ritual to be initiated as a full-fledged Wiccan
Empower you to develop your confidence and self-esteem
In these Wicca lessons, I show you exactly what to do — and how to find your own way at the same time.

You've heard people say that the answers are within you, haven't you? But you need to know how to find them! This empowerment is a core part of becoming a Wiccan: discovering that you can find all your answers within yourself… and gaining the skills to do so.

A Year & A Day: 53 Weeks to Becoming a Wiccan is designed specifically to help you develop your intuition and access your own inner wisdom.
Do you live below the equator?
YES, this works for the Southern Hemisphere too!
At the end of this course, you will have earned the equivalent of a
First Degree Wiccan Initiate
—
and a lot more!
That's not something that just anyone can accomplish. It's something you can take pride in!
If you read the lessons thoroughly and do the activities, you will not only BE a Wiccan, you will be an exceptional Wiccan.
This course is all you'll need.
Weekly Infusions of Inspiration
What makes it really work better than other ways you could learn Wicca is the ongoing inspiration:
Weekly lessons plus additional bonus emails & tips
to keep up your motivation and help apply it in your daily life. It's the ongoing
exercises and practice
in all the Wiccan skills and knowledge that really lets you absorb Wicca and make it part of you. And it's
the depth of connection with the Divine
that comes as a result of it all. After all, one of the biggest problems is to find time and ways to make Wicca part of your life, right? When you receive ongoing support and encouragement 2 or 3 times a week, you feel a stimulation to keep going.
After 13 months or so of "living la vida Wicca," you'll find it easy to bring Wicca into your daily life!
It will just be second nature, to connect with Nature.
This brief video describes how this course works, and the priceless gift it offers ...
About the Teacher
You're ready for the real deal, right? You're exactly the kind of person I want to share this with! Because you want...
You want to be one with Nature... to feel the Divine's boundless love... to free the magickal soul within you!
I know how you feel: that's exactly what I want, too!
That's why I created Wicca Spirituality
... I want to live a Wicca of profound spiritual experiences and empowerment. In fact, that's the Wicca I've been living for over 30 years. For decades, I've been honing the exact process to get the greatest results, for...
magick
self-discovery
spiritual empowerment
connecting with Nature
reunion with the Divine
As a result,
I've developed well over a hundred down-to-earth, do-able exercises that will allow you to experience these things for yourself
and distilled the very best into this comprehensive Wicca homestudy course. Of course, that's won't do much good unless I also excel at
teaching
these spiritual skills. From my site, online zine, etc, you can see that teaching is totally in my wheelhouse. And I'm thrilled to be able to offer you a unique Wiccan training system that I've refined to get you the greatest results you can imagine. I don't want to sound like I'm exaggerating, but it's true:
one of the most common student comments is that this course has changed their lives!
Quotes: self-esteem, self-love, inner-child, joy, life improvements

That's my passion: I feel I was born to help you step into the new, spiritual age that's dawning... to reconnect you with Divine Source in a very real and practical way.
Has the Divine Guided You Here, Now?
That's why I'm so glad you're here! I've helped launch thousands of fledgling Wiccans and spiritual seekers who love the Earth. I would be entirely honoured and very pleased to be your guide into the mysteries and beauty and power of Wicca.
A Year & A Day: 53 Weeks to Becoming a Wiccan
is designed specifically for Wicca beginners like you who want the deepest possible experience of Wicca and
to become the earth-angel you were born to be... a light of healing and love for Mother Earth!
This course also reveals
the deeper spiritual mysteries
that underlie Wicca
Communicate with all of Nature
Experience continuous love & intimate contact with the Divine
Receive help and support from Mother Earth every day
Open up to profound spiritual insights that explain — simply — many of the mysteries of life
Feel greater gratitude, peace, harmony, and joy in life
Develop magickal abilities to create whatever you desire for yourself and your loved ones
Increase your abundance, health, and emotional well-being
Live in harmony with the magick of the sacred
Discover how you can heal the Earth and make a positive impact on the world
This is vital knowledge if you're ever to find your own spiritual path! Following other people's rules and paths can only take you so far, then you need to know how to find your own way. That's when Wicca becomes more than empty gestures and words, and really brings you to life.


Holy Mother Earth, Count Me In!
The Details
Here are a few things you probably want to know...

When To Start
A Year & A Day: 53 Weeks to Becoming a Wiccan is designed to run in concert with the seasons and the Sabbats: whether you're in the Northern or Southern Hemisphere, the best way to use this course is to begin it the month before Imbolc — so starting in January in the North, or July in the South. You can start any time you want, though, if you prefer not to wait.

Priced To Heal
A Year & A Day: 53 Weeks to Becoming a Wiccan is far beyond any other Wiccan course in both quality and scope, yet it's still so affordable. Yes, a course of this scope is an investment in yourself. One that is well worth it, my students affirm resoundingly, and here's why: A Year & A Day: 53 Weeks to Becoming a Wiccan is much more than learning how to become a Wiccan... This amazing course takes you
On a deep, transformative journey
into Earth-based spirituality,
into Mystery,
into the truth of life itself,
into increasing self-awareness,
self-esteem, confidence
and empowerment
This course is the equivalent of a whole library of Wicca books. And with tons of unique information you can't find anywhere else! As my students confirm, there's nothing else out there remotely like this.


Where Do I Sign Up?? I'm Ready For This!

CHARLES' Quote
"the ultimate wiccan skill-building course"
Basic Class
( $35/mo )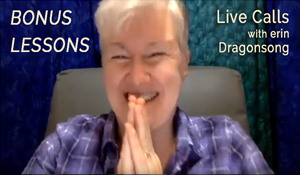 Yes! I Want to Be a Wiccan Now
Star*Students Class
( $70/mo )
58 Weekly Lessons
Wiccan Chants & Songs for each lesson's topic
Bonus Encouragement Emails
Unlimited Email Support
Wild Wiccans of the World club card
Certificate upon graduation suitable for framing  

(choice of styles: romantic or classic)

Printable PDFs for each lesson's exercises to take with you outdoors or to your altar each week

Printable review questions worksheets for each lesson

Inner Reflection, self-discovery weekly worksheets
Weekly Printable PDFs

to guide your Grimoire-building 

Audio MP3's of all the Guided Visualisations (59 in total!)
Downloadable Reference Manual -- a handy summary keeper of the core information
PLUS! . . .
Live online BONUS LESSONS
twice monthly,
with erin Dragonsong

I Want All the Juicy Extras!
---
Single-Payment Bonus
( for Star*Students only )
If you pay for the whole course in advance, you also get:
Greatly discounted price
Lifetime access to live online Q&A webinars
Lifetime membership in the Year & A Day forum
Free Unlimited Re-enrolment, to take the course over again as many times as you like!  

(A fantastic advantage, because the course covers so much, most students want to repeat it from scratch -- sometimes multiple times -- to make sure they get every bit of the knowledge & practices.)

Yes, I Want the Full Magickal Experience!
---
 


This price is equal to other online Wicca courses, even though A Year & A Day: 53 Weeks to Becoming a Wiccan has at least 30 times the training and infinitely greater scope for your personal and spiritual development.

So for the price of a dinner out, you can learn Wicca with one of the best spiritual development courses on the planet!



You also get, at no extra charge...
The Wicca Spirituality Way
To Becoming A Wiccan

And of course, in the Magick And Mystery Wicca School, you get the special Wicca Spirituality system: heart-centered, healing, connected with the Divine, and empowering.

Please join me on this incredible journey
to the heart and soul of Wicca,
to the essential power and beauty of yourself,
and to the intimate home of the Divine...
Allow me to introduce you to Nature and the Goddess in a way that uplifts you and can change your life forever
Allow me to introduce you to the God as you've maybe never seen Him before: a model of positive, loving, life-serving masculinity
Allow me to show you how to unlock your deepest potentials and mystical powers
Get connected with the seasons and the Earth you inhabit, with personal experience of the Divine who lives in Nature... as well as within you!





100% Risk-Free, Naturally

And of course I stand 100% behind it with a money-back guarantee. If you don't find that this course gives you everything you need to become a Wiccan, and more!, you can cancel at any time, and I will refund your previous 2 monthly payments. This gives you 8 whole lessons to sample, experiment, and find out for yourself how effective this program actually is.

So you have nothing to lose, and a whole Wiccan world to gain!

Sign up now and begin learning Wicca today, with your very first lesson (which includes why you're lucky to be a Solitary Wiccan and offers a lovely Wiccan prayer to get you started).

With Brightest Blessings,



P.S. Not Sure If I'm The Right Teacher For You?
It's essential to have confidence in your teacher, especially for spiritual studies. If you're not sure yet that this course is for you, if you can trust me, or that I know what I'm talking about, please take a few minutes — or hours! — to read some of the tons of Wiccan information I give away for free: my site, 'Zine, Facebook, or Twitter updates. Also the best possible way... Find out what other students are saying. It's vital to have a teacher you can relate to, who truly knows their stuff from personal experience and higher insights, rather than paraphrasing what others have said. And you deserve the most effective guide (not everyone who knows can teach).

Someone who can make Wicca come alive in you!

And I can promise you that I continue to do my very best to make this Wicca course give you all you need and more to spread your Wiccan wings and fly.












---