Miracles Archive
What, you may ask, is a miracles archive? How is it
a boost to your success in magick and co-creation?
Excellent questions!
Let me start by asking
you
a question...
What Is the Number 1 Block
to Successful Magick?
DISBELIEF!
When we truly believe, to the depths of our bones and being, that something will happen, it will happen. That's why we do magick and why we pray for miracles the way we do — so they will help us believe that what we wish for is not only possible but real. The problem is, on a subconscious level, we have a lot of doubt. Doubt about magick, and doubt about our magickal ability.
If you want to work miracles, you have to believe deep in your subconscious that miracles are possible!
(Why?
This article on subconscious mind explains
.) That's where this Miracles Archive comes in.
The Purpose of a Miracles Archive
Here's a good way to begin to reprogrammed those limiting beliefs, and free you to create more effective magick, and
make miracles on cue.
On our latest
A Year & A Day
bonus lesson, that's what we did.
We shared our personal stories of miracles and successful magick that we've experienced.
The purpose of this exercise is that, when we hear other people's experiences...
It helps us realize that magick IS real, and we have each experienced many miracles
It reminds us of similar experiences that we've had, which we may have forgotten
It reaffirms that what we've experienced counts as a miracle
This teaches our conscious mind that we have worked and received magick & miracles in the past
This begins reprogramming our subconscious mind to know that magick is REAL, that we are DESERVING of these things, and that we CAN bring forth miracles!
I really noticed that shift on the bonus call... in some cases, people didn't even
realize
they'd had miracles happen to them until we all talked about it!
The Benefits of a Sharing Miracles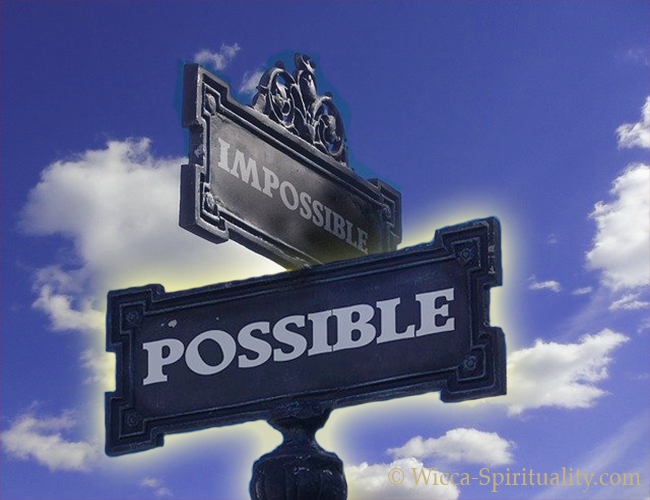 This is a powerful gift!
It gives us confidence and empowers us to be even more effective at miracle-working.
Remember from
the article on the power of the subconscious mind
? Disbelief and doubt are the chasms that magick can't overcome.
Belief is what gives us the power to work miracles.
More accurately, belief is what enables us to liberate the natural miracles that we are designed to strew about us as we move through life. Every great spiritual master has said this. Jesus, in fact, declared that if we only had faith the size of a
teensy little mustard seed,
we can tell mountains to move and they will move! And he wasn't in the habit of exaggerating or lying to people.
How to Start
Reprogramming such
core beliefs
takes certain skills and specific techniques. (I can help you with this, by the way.) Here's a start, though. You can begin to change your subconscious beliefs by
showing
yourself proof that what you want to believe and experience is possible. And we can help each other increase our belief in miracles! By reading about miracles that have happened for other people, you learn about what's actually possible.
That begins to teach your subconscious minds that you can have these things too!
I've created this new webpage so we can all share these stories and help reprogramme our subconscious minds to believe in our ability to work miracles.
I Invite You To Share Your Miraculous Moments With Each Other
Below, you'll find a space where we can tell each other about the miracles that we've experienced. A miracle is defined as
"a surprising and welcome event that can't be explained by scientific laws."
That's a pretty broad field!
Please share whatever you believe fits that category.
Healings
Protection
Intuitive Guidance
Visitations
Time travel or expanding time
Mandela effects
Dimension-shifting
Psychic phenomena
Childbirth (seriously, what is more miraculous than a baby growing within you from a single cell!)
Your experiences here....
I invite you to share your miraculous moments with us, and receive evidence of our miracles in return.
I'd LOVE to hear your stories. By sharing them, you also gain the benefit of helping your subconscious believe in them even more. Reaffirming the miracles in your experience teaches your subconscious mind that...
MAGICK IS REAL
YOU ARE DESERVING of miracles, and
YOU CAN MAKE MIRACLES HAPPEN!
And if you would share them on this page, you can help uplift the whole world to these beliefs too. Please Share Your Miracles With Us Today!
It's never too soon to start programming yourself for success, wellbeing, and happiness!
You can enhance the experience by providing, if possible, any witnesses or corroboration of the event. Don't worry if you don't have those, though...
we still want to hear your stories!
Please Share Your Miracles With Us!
To get things rolling, I'll start with some of mine.   (I'll just do brief bullet points, but i hope you'll share your stories in full detail!)

See if you've had similar experiences... or if it reminds you of things that you've experienced.

My spouse and i having dreams about the same things (eg, about being on a boat or seeing a horse...) on the same day
The dog reacting with excitement the minute that my spouse thinks about coming home
Communicating telepathically with animals
When my car won't start, grounding and drawing up Earth energy usually gets it to start
Sending healing energy to someone, or my own body, and seeing positive results
Shielding and feeling the energy clear, or even seeing an annoying person walk away then

Playing with invisibility / not being noticed (moderate success)
Spoon or fork bending
Health improving after energy treatments or even being at a conference of light workers for a week

Cloud busting
Eating outside in August & September, mentally telling the wasps that my food is not their food and that they should go find their own food... and they leave
Breaking a board with my hand (women's self-defense training)

Weather magick

My best friend's spirit visiting me months after her passing, and pulling me out of body to visit - first time i had an out-of-body experience.

When i was deep in spiritual process, doing a mantra practice instead of eating dinner because i FELT in my body that the mantra was absolutely giving me nourishment better than the food could (and my body was in too refined a state to eat after 2pm without digestive issues)
Parking space spells work virtually all the time
Hearing a voice literally and audibly yell at full volume into my face, when i was alone at a cabin and feeling sicker by the day, "GET OUT!!!!!!"  And immediately after leaving i began to feel better
Growing a baby inside my body from a single cell

Some of these are so small that we tend to overlook them.
Some are so ordinary that we forget they're miracles.
Some stand out as obviously "supernatural"... yet the brain tends to forget about them because they don't fit with 3-D consciousness.
That's why it's so important to write them down and remember them!
Please join me in sharing these empowering, uplifting examples of miraculous human potential!

Ever Have A Miraculous Experience?
Please share it with us!
What Other Visitors Have Said
Click below to see contributions from other visitors to this page...

A Visit from Spirit?

I was sitting on my front porch and thanking the Angels and Universe for such a splendid day. I closed my eyes and visualized the roots from our large …
Mirror Miracle

As I was walking up a totally enclosed staircase, I had a 5 foot tall mirror fall and shatter into a million pieces all around me while I was completely …
Life's Miracle - Healing Animals & Hearing Spirits

For as long as I can remember I could lay my hands on an animal - wild or not - and heal them. People are amazed how long my animals live beyond the norm. …