The #1 Secret to Discovering
Your Life Mission!
FREE Workshop!

Sign up here for the free visualization
Saturday August 21, 2021
"What should I do with my life?"
"What is my passion?" 
"What is my Life Mission?"

Do you ever wonder about these questions?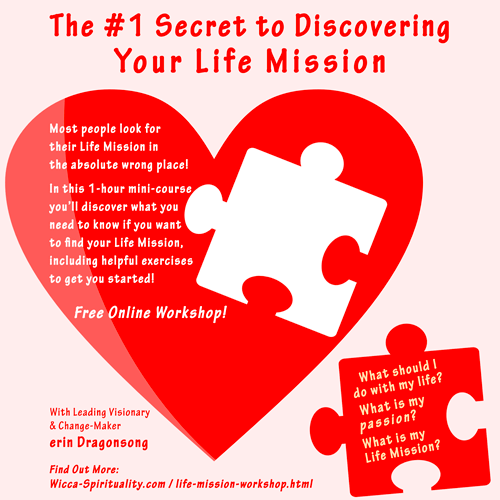 When we're not living our Life Mission, we feel a big hole in our heart.  Something is missing!  We're not doing what we're meant to do.  We feel unfulfilled, anxious, lacking motivation, and half-alive.

Everyone has a Life Mission.  It's not something you need to create... it's already in you.  All you need to do is uncover it.
That's the trick, of course.

It can be elusive.  In fact, most people look for their Life Mission in the absolute wrong place.

In this 1-hour mini-course, we'll fix that!  You'll learn...
   * Advantages of Found Mission & Consequences of a Lost Mission
   * Why "What is my Life Mission?" is the absolute wrong question  
   * What if you don't have a Life Mission?
   * What your Life Mission won't be
   * Life Mission challenges – when they're signs to quit, and when they're not
   * How to find your true Soul Mission
   * Can your Life Mission change?  (And how will you know if it does?)
   * How to reveal your Life Mission even when it's hiding in your blind spots (as it often does) [divination, meditation, trance journey]
   * The #1 clue that you're not on track


We'll cover some things you need to know if you want to find your Life Mission, and do some helpful exercises to get you started!

You'll come away with greater clarity about your Life Mission, and how to find it.


This is a one-time only event, so don't miss out!
When & Where

This enlightening, interactive workshop will be held live online, in Ruzuku  (yep! a real online learning platform! This should make it a much richer experience... there's even a way to chat with other participants!)

Saturday July 10th at 11 am (Pacific Time)
( 2 pm EST / 7 pm GMT )
( Check what time this is in your own time-zone )
Join one of the world's leading visionaries and change-makers* to discover your Life Mission now!

With Brightest Blessings,
erin Dragonsong


Disclaimer & Caution:
By continuing, you indicate that you agree to the Terms & Conditions.
Using these or any tools and techniques on this site or its subsidiaries is entirely your personal responsibility.

Return from Free Life Purpose Workshop to Products & Events