Want to befriend the Totem Animals
who walk through life with you?
Wise teachers

to guide you

Strong defenders

to protect you

Powerful mentors

to liberate your hidden powers and potential
Allies

to assist you

Friendly beings

to share your life with
I've discovered and communicated with a number of Animal Spirit Guides in my life path, and they've been so useful -- I can't imagine how I'd have reached this point without their help.


That's what most strikes me about them. How helpful they are. And I want to share this experience, this useful tool with you because I believe everyone can benefit from connecting with their Animal Spirit Guides.

It can be hard to find them on your own. Luckily, you're not alone. I'm here to help you. In this set of e-books, I've compiled my years of experience with helping people find and communicate with their Animal Spirit Guides. This
step-by-step process
will help you easily find your own personal Totem Animals. It works even if you have no idea how to talk to Animal Spirit Guides!
I will personally lead you through finding your Animal Spirit Guides and what you can do with them.

How Do You Find Your Totem Animal?
It can seem pretty daunting -- you, by yourself, trying to determine which animal out of the hundreds of species on Earth is YOUR Animal Spirit Guide. One of the most common techinques for finding your Animal Spirit Guide is doing a visualization. A visualization by itself, though, isn't enough.
To discover your personal Totem Animal, there are a few things that will assist you:
Noticing events that appear related in your life
Developing your psychic abilities
Being open to receiving insight from the natural world
Being humble and respecting all creatures -- believing all creatures are equally valuable
Noting the events in your life where particular animals appear (e.g. if a lion constantly happens to appear on the TV when you turn it on, is on posters at your regular bus stop, etc.)
Having a way of verifying if a particular animal is actually your Animal Spirit Guide
To successfully connect with your Animal Spirit Guides, you need an understanding of Animal Spirit Guides -- what they are, how they communicate -- and the ability to perceive them.


The first book in the A Natural Connection series helps you with just that: it offers information about the different types of Animal Spirit Guides, what sort of reality they operate on, and how you can communicate with them. After that, it guides you through over a dozen exercises to help you increase your intuition and grant you the skills you need to meet and communicate with your personal Totem Animals.



The right teacher makes all the difference
Learning a new skill can be difficult. You may be able to slog through it on your own, but it's far more helpful to have someone give you step-by-step instructions. How else will you know if you're missing a crucial part?
With the guidance of a world-renowned spiritual teacher, you won't miss anything. You'll know exactly what to do and how to do it. I've been teaching this sort of thing to people just like you for decades, and the techniques I've developed are being passed directly to you in this book.

Though I scarcely had any knowledge of spirit guides, I found the author set out the path for her readers' encounters with clarity and a relieving dash of humour.
Never did I feel intimidated by the spiritual journey ahead of me because of the pages of preparatory material.
In fact, what I loved most about this guide was that it helped me become more aware of my own self, body and soul, as much as it helped me become aware of my spirit guide."

Abigail C.
Oxford, England
Why This Book is Different

The
spiritual perspective
...
A Natural Connection is not just about Animal Spirits: it shares information on how they can help you with your spiritual journey and reconnecting with the Earth, and leads you through the process of finding them.



Step-by-step directions that are super-easy to follow, making a perhaps-daunting process easy, clear, and simple.

Extremely clear
visualizations that will work for everyone
, even those who usually have trouble visualising.

The bite-sized format of the book lets you
do as much or little as you'd like at one time, and the Playsheets help you to integrate finding Animal Spirit Guides into your already full life.


A Natural Connection is simply the best resource available for learning how to interact with your Animal Spirit Guides.
Finding Your Totem Animals... then what?
Once you've found your Animal Spirit Guides, what do you do with them? What
can
you do with them? It can be difficult to know what to do after you've connected with your personal Animal Spirit Guides.
Turns out that you have a number of options available to you. You could, for instance...
Ask them for guidance about anything
Invoke their protection
Chat with them, get an animal's perspective
Receive unexpected insight in your everyday life
Thankfully, there are a number of straightforward methods to help you work with your Animal Spirit Guides -- conversing on another plane of reality via shfiting consciousness, a journalling technique, and interpreting the messages that they send you.


In A Natural Connection you'll find lots of resources for how you can tap in to your Animal Totems' guidance and assistance.
Ways to strengthen your connection with your Animal Spirit Guides
A step-by-step visualization for how to communicate with them
Instructions for how to use writing to receive messages
Conversation starters -- questions you can ask your Animal Spirit Guides
Detailed instructions for how to invoke protection
Assistance for interpreting symbolic messages
Troubleshooting
As with any new endeavour, you can run into snags. Maybe you just can't find your Totem Animals. Maybe they're kind of scary.
You'll want to know what to do!
To me, this is the most important support for finding your Totem Animals -- What to do when things go wrong.

When I picked up "A Natural Connection" I got more than I expected. It's full of practical advice.
Volume 1 was very thorough and prepared me well…ensures that you are READY to meet your Animal Spirit Guides.
While I was impressed by the guide itself I was most amazed by the companion books.
Volume 2 is incredible as it walks you through building a solid relationship with your new found guides. It got rid of the stage fright I was feeling.
Then... in case of emergencies there is Volume 3! The troubleshooting guide is the kind of help book you wish your appliances came with. It was direct, helpful and was thankfully delivered with a reassuring tone.
This book has been a pleasure to read and the results I am getting have been encouraging and exciting."

Kaeleigh MacDonald
Houston, Texas, USA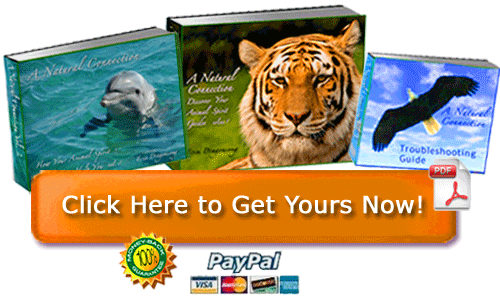 More than your Animal Spirit Guides...

Discover the Divine's teachings and messages to you in all of nature

How to easily achieve altered states of consciousness

Learn to communicate with trees

Excellent spiritual and psychic exercises for beginners

Experience more joy, harmony, and satisfaction

Learn how to gain information from your body and find out what it needs

Strengthen your intuition



Gain awareness that you are always loved, supported, guided... and never alone! You always have devoted companionship

Increase your confidence, self-worth and personal power

Reconnect with nature and Mother Earth


Say "YES" to your heart's desire for animal companionship and relationship with nature
Animal Spirits are eager to befriend you. Some are walking with you right now.
You can discover who they are and how to access their power. You can meet with them and communicate your needs, questions, and wishes.
Fulfill your desire to connect with your Totem Animals!
Here's what you'll get...
3 books in a downloadable, digital format for reading on your computer/e-reader readers -- to save trees, save you money, and make it easy for you to print out as many copies of the Playsheets as you'd like.
You can get started on your journey with your Totem Animals today.
For just $29.95 (CDN), you'll have immediate access to all three books. No shipping and handling fees, no hidden costs.
Plus, 5% of all profits goes to charity.

Volume 1 gives you 117 pages filled with unique information and explanations, exercises to build the necessary skills, and a detailed method for meeting your Totem Animal

Volume 2 gives you 39 pages on how to work with your Totem Animals -- including invoking their protection and receiving guidance

Volume 3 gives you 26 pages on Troubleshooting any difficulties
PLUS

15 proven exercises to help you communicate with your Totem Animals (See a sample one below.)


9 convenient Playsheets to aid in recognition of Totem Animals in your life and keep track of their encounters

All that's left is for you to play with the exercises in this unique book, and discover your personal Animal Spirit Guides!
Where else can you find such a high-quality, informative resource for about the cost of one restaurant meal?
The skills you'll develop with this book will serve you well for years to come.
And there's a
100% money-back guarantee.
I have made a product that will really help you. If you don't find that it's worth the price, e-mail me, and I will give you a full refund anytime within the first year -- that's a 12-month guarantee. Simple as that.
That's my personal promise.
With Bright Blessings,


This superb book gently guides the reader step by step, with easy practical exercises, in how to discover, bond, and listen to their animal spirit guides.
It offers a clear, concise, nurturing path to develop and awaken within you the ability to connect with spirit.
I thoroughly enjoyed the book. This is such a powerful tool to help you access the deeper realm and discover your animal spirit guides."

Gayle Church, Author and Mind-Body Practitioner
St. Catharines, Ontario, Canada

Click to Get Your Books and Find Your Totem Animals Now!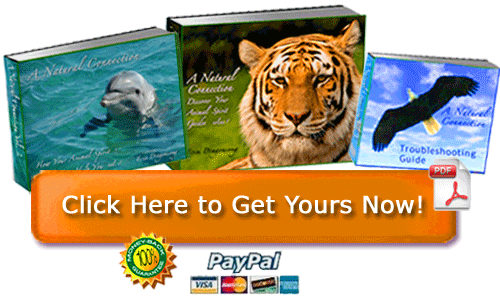 ENJOY THIS FREE EXCERPT:
AN EXERCISE FROM THE BOOK
How to Open Your Third Eye

Your third eye is your psychic centre. This is another name for your 6th chakra, situated more or less between your eyebrows.

It's considered "open" when energy moves freely through this chakra, making you receptive to psychic or intuitive insights.

The first step in opening up your 6th chakra is proper posture.

No kidding!

Most people want something more esoteric, but the fact is that your body is the physical radio that allows you to tune into Cosmic signals, and your spine is the electrical cord that plugs it in. A cord that is kinked doesn't allow energy to move through it very well.

Therefore, the first order of business when wanting to clear, open, or align your chakras is to allow the cord to function as well as possible.

So start by finding and maintaining proper posture.

Opening The Chakras -- A Caution

When people ask how to open their chakras, I usually shudder.

Chakras are closed for a reason. Forcing them open artificially could have unanticipated and unpleasant effects.

Better to keep the body and spirit in balance. You will find that the chakras can open naturally. Then if you do try to speed up the process, you're less likely to do harm to yourself.

However, if you've been doing all the exercises in this book, you are already well into the process of balancing and clearing yourself on many levels.

I suggest that you fill in any gaps by ...

using meditation, affirmations, and reflection to strengthen and discipline the mind, and
good health routines (like good posture, plenty of water, exercise, rest and sleep, stretches, and healthy diet) to strengthen and prepare the body for increased Energy flow.

Also, be sure to work on every chakra -- if you want to open one chakra, you must open them all. The Breathing exercise, below, for instance, can be done with any chakra.

Each chakra you open increases the Energy flow through your spine. You don't want a lot of energy running up against a dam at any point!

So take responsibility for your well-being, and develop any weak areas in your life so that it's in balance with all the rest: physical, mental, emotional, and spiritual. Then you can carry on with this process in safety.




Exercise: Breathing Into Your Third Eye

In a comfortable position, with your spine well-aligned, imagine yourself in a shower of Light -- pure white brilliant Light.
Take a few deep breaths, and relax more with each exhalation, while keeping your spine aligned and lifted..
Bring your gaze gently toward the space between your eyebrows.
Breathe deeply, inhaling the Light that surrounds you. Imagine that you are gently inhaling Light directly into your Third Eye.
Go slowly and tenderly. If you feel any discomfort or distress, breathe into that feeling a few times, and then stop for a while. Come back to finish this exercise another time. The last thing you want to do is force open a chakra, especially this one!

You may need to do this exercise a number of times before you get all the way through it. And that's okay! It's better to be gentle with yourself and gradually build up the "flexibility" to open a chakra, than to be rough and cause yourself all kinds of problems.

Continue breathing Light into your Third Eye, noticing how the Light gradually softens the space, relaxing it. You may feel that area gently expand with your breath.
Feel the Light. Feel its tingling warm vibration filling up your Third Eye. (If you're not sure you can feel it, then imagine it... sooner or later you will start to notice that the sensation is actually there.)
Notice if you hear a new sound, or smell a surprising fragrance, or see colours or patterns. This may or may not occur; if it does, simply observe it. Stay focused on the Light.
Imagine the Light washing this chakra clear, so that no veil or shadow obstructs the Light.
The Light in your Third Eye begins to shine, like a Star placed on your brow. This Star is the conduit, the resonating crystal through which psychic information passes into your awareness.
As you continue to breathe Light into this chakra, b>you can begin to sense that it is now more open to receiving impressions and insights from subtle and unseen sources. It is as if your eyes have now opened onto other planes of existence. And not just your eyes, but all your senses, including your emotional sense. In a very real way, this is exactly what has happened.
Feel the Light and your breath as it continues to expand the Third Eye.
Become aware that the spot on your forehead is only part of the story: it is a reflection of the chakra in the centre of your head, deep within your brain. This part too is growing in the Light.
Your whole head is now lit up with this radiant Light, which shines outward from your 6th chakra, illuminating your entire brain and all your mental processes.
Notice any emotional reaction to this feeling of openness. If there is an uncomfortable feeling, observe it and breathe into it. Continue to breathe slowly and deeply.
Now it's time to close down your Third Eye to a comfortable level. If you leave it too open, you may pick up more information than you want or that is good for your health. So as you breathe, allow the Light to concentrate once again at the space between your brows. Like a very tiny diamond or star, it shines there.
Know that anytime you wish to access intuitive or psychic information, you can breathe this Centre open again. In the meantime, for now, it will only access a fraction more subtle information than you have been used to.

Over time, as you develop on all levels and practice this and other exercises, you may be willing to keep the Third Eye more open, the Star larger and more welcoming to information.

Bring your attention back to your physical eyes. Can you see anything on the inside of your eyelids? Gently open your eyes.
Make notes in your journal about this experience.










Return from Totem Animals to Animal Spirit Guides