What Are The Benefits of Creating Mandalas?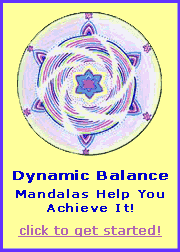 Creating mandalas can be such a wonderful hobby, and a valuable spiritual practice at the same time. To Tibetans, mandalas are the
Architecture of Enlightenment.
A mandala creates
a temple in two dimensions,
and this temple is accessible to the human mind in meditation. This "temple" is none other than the Universe, in its most perfect form. A form we can begin to embody, as we meditate on it. Swiss psychiatrist Carl Jung was very familiar with the power of creating mandalas. He witnessed that sacred symbols found their way into mandalas instinctively. Jung also realised that making mandalas was a form of visual journaling that was particularly healing. He wrote, "My mandalas were cryptograms…in which I saw the self—that is, my whole being—actively at work."
Today, the benefits of creating mandalas are more valuable than ever.
As we draw near the spiritual transformation of the Earth, every tiny bit of refined awareness is a gift to all beings. This is, I believe, the most important benefit of making mandalas today. The benefits of mandalas are manifold.
The range of personal benefits from making a mandala range from emotional to health, from mental clarity to spiritual growth.
Below is a list of many — but certainly not all — benefits of making mandalas.

Creating Mandalas Helps...
Calm your mind,
Quiet your emotions,
Induce feelings of tranquility and deep contentment,
Uplift your soul,
Promote greater awareness of self and Life,
Make meditation easier and more accessible,
Reduce stress and lower blood pressure,
Generate good health and well-being,
Ground and center your consciousness,
Integrate polarities within yourself (such as yin/yang),
Increase concentration,
Stimulate your creative thinking and problem-solving abilities,
Access the Divine/Teacher Within you,
Create satisfaction and pleasure,
Overcome blocks and stuck patterns in daily life,
Align body, mind, heart, and spirit into harmony,
Open the heart chakra,
Assist you to reach your full potential,
Promote spiritual enlightenment.

A Joy-Ride For The Soul
It's obvious that I'm a great fan of making mandalas! I've been making personal mandalas for many years, so I have experienced the benefits myself. This reminds me of one other benefit of mandalas. They're so easy! Mandalas are accessible to everyone, no matter what level of "artistic talent" you may have. You don't need to be an artist to create beautiful and meaningful mandalas! It's very democratic.
Everyone can benefit from drawing mandalas. That's why I've put together a package to help get you started. I call it the
Personal Mandala Starter Kit
, and it's got everything you need to begin... including ideas on what to draw. So now you know the WHY of mandalas. Below are other articles to help you with the HOW, and WHAT (as in
"What do I do with it once I've drawn it?"
Believe me, there's more!)
With Brightest Blessings,
erin Dragonsong



Return from The Benefits of Creating Mandalas to Mandalas