Discover The Hidden Messages
In Your Personal Mandala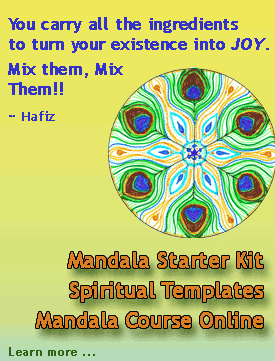 Once you've
created a personal mandala
, you can explore it . . . like an archeologist unearthing new discoveries about your Deep Self.
Just like dreams, mandalas carry messages to you from your inner realm, and from the Divine.
And you can uncover these secret messages! This is another part of the meditation on your personal mandalas. The first meditation was in its creation. The meditation continues with the interpretation of its meaning. NOTE:
A free printable mandala template page can be downloaded here.
Reading Your Mandala
Here's a method I've found that works well for me, and it doesn't take very long unless you want to devote a lot to it.
Upon finishing your mandala, take a few minutes to write about what you feel and what you think about it. Also, make note of any "conscious concerns" . . . issues that are up for you that day. Then put it away. At bedtime, let yourself gaze at the mandala while preparing to sleep. Allow thoughts and ideas to rise and fall away. This allows the subconscious to develop the theme in your dreams. In the morning, explore your mandala again. Make note of any new insights. If you've had dreams, it may help to record them as well. If you want to go even deeper, meditate on your mandala for a set period of time. Afterward, make notes. You can come back to a single mandala several times, to harvest levels of wisdom contained within it. Often after a period of time, new meanings will make themselves clear. Especially if you've also recorded your dreams.
Questions For Exploring Your Personal Mandala
Notice how the mandala looks . . .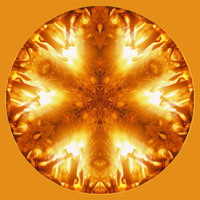 What shape is your mandala?
How many points - that is, sections - is it designed with?
Is it large or small, or in-between?
Is there a lot of space, or is it well-filled in? If it alternates, where is it spacious, and where complex?
Have you used much detail, or big broad strokes? Or a combination?
Does it have geometric order, or chaotic movement, or something else?
How do the elements relate to each other?
How would you characterize the overall sense of your mandala?
How do all of these characteristics relate to you, and your life, in this moment?

Personal Mandalas As A Spiritual Exercise
A person's mandala shows their inner identity, values, and way of being in the world . . . but this can change radically from day to day. So any one mandala is like a snapshot of where you are right now.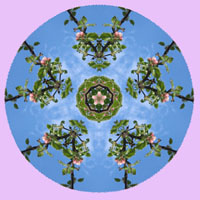 This is also an interesting exercise to do with various other things in your environment. What if your house were a mandala? Or your car? The clothes or jewelry you're wearing today? Try interpreting other things around you as if they were mandalas, representing a snapshot of your life. Because they
are
.

As you can see, there is almost infinite possibility in self-discovery through this process. It's like having your own spiritual teacher, who knows your personal being through your mandala.
Exploring the mandalas you've created is a way to befriend yourself, and the Goddess within you.
When you make the time for this spiritual exercise, you will appreciate it for a long time. Each journey into your personal mandala is a joy. I encourage you to give yourself the gift of creating a spiritual mandala. Do it at least once, because you can't begin to guess the insights and power that this exercise can release for you until you do it yourself.
Learn more about the benefits of creating mandalas.

Return from Interpreting Your Personal Mandala to Mandalas