A Yule Prayer Song
— by special Wicca Spirituality correspondent, Colombe
Here is a special Yule Prayer Song and Winter Solstice Ritual you can use. At Winter Solstice, we call out with our innermost being for the return of the light, and we honour its return. This Solstice I know we all are feeling
a great need for the light to come back, not just with the sun's returning this year, but also for humanity in general.
We are hoping this Winter Solstice Ritual and Yule Prayer Song will go out around the world, so Wiccans everywhere will be
merging our power and actively creating a future for the Earth.
Yule Prayer Song
Mother Earth
I offer to you this song
For I am earth
and to the Earth, I belong
Mother Earth
help me grow as you need me to
Mother Earth
show me what I am here to do
'Cause I am growing, I am changing
on this darkest day
I am growing, I am changing
in my darkest place
I am growing, I am changing
on this darkest day
I am growing, I am changing
in my darkest place

Download the free Yule Prayer Song here.
(Please Note: this song is copyrighted under Creative Commons 3.0, which means please share it, copy it, and use it, but it is required that you link back to this page and credit Colombe.)
This Solstice Let's Sing
Our Call For The Light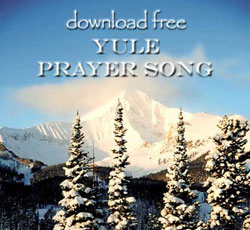 To empower our magick even more, the Goddess has sent us a song for this ritual.
Singing turns our intentions into pure vibration — the very fabric of the universe.
Those vibrations permeate all levels of being, all levels of existence, and help our intentions manifest in the world we live in.
Building Up to Earth's Transformation
Manifesting a new way of being in the world is becoming more and more essential, as we approach the New Paradigm and great climate change simultaneously. Winter Solstice can be a fulcrum point for the change that is needed to occur in order for humanity to thrive into the future. This can be a solstice for humanity, the moment of the fulcrum where as a species we stop heading into darkness and instead start heading back towards the light and a new golden age.
If we want it.
If we choose it, envision it,
and work to create it.
Want More Songs to Celebrate Yule?
Let Your Heart & Voice Sing Out In  Praise of the Solstice Season
15 Original Songs
+ 20 Traditional-ish Carols
A Prayer for Mother Earth To Be Patient
And so for this solstice — for you — for us — I have written a Yule prayer song to invoke that return-of-the-greater light. A prayer to Mother Earth, that when we sing it, She will know that we hear her distress and anger. A prayer for Her peace and patience with us humans as we endeavour to change.
This is a magick spell in a musical form.
Even just listening to this song, playing it and sending its vibrations out into the world is a prayer for healing for the Earth
and asking for Her to be gentle with us and patient. May listening to it and singing it also nourish the changes you need to open your heart and spirit in this darkest Solstice day.
When Do I Sing This Yule Prayer Song?
Sing it on the Winter Solstice. (see below for the Winter Solstice Ritual.)
Sing it during the Climate Change Conferences.
Sing it any day when it feels like the dark is all around and the light far away and uncertain.
Sing this song to a living piece of Earth. Don't worry about how well you sing or not, She only cares that you are singing to Her!
Sing it to the trees when you go walking in the woods, or sing it to the ice when you are shoveling snow.
Sing it to yourself when you need help or hope.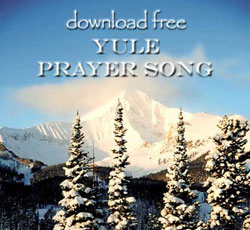 You can download the free Yule Prayer Song here.
(Link opens in new window.)
** How to Download This File **
To listen to the MP3,
simply click on the link or image.
To download it onto a PC
for later listening ...
Right-Click on this link — not the MP3 player — and choose "Save Target As" or "Save File As." Then select where you want to save the file on your hard drive.
Once you've saved it, double click on the file to open it.
To download it onto a Mac
with Firefox ...
Hold down the Option key and then click on the link — not the MP3 player. (It will either download automatically, or you'll get a Save As window, where you can rename it if you want and then Save...)
To download it onto a Mac
with Safari ...
Right-Click on the link — not the MP3 player — and from the pop-up menu, select Download Linked File.
(Option-Click in Safari will only open the mp3 file in a new tab or window.)
OR
Option-Click on the link, and the MP3 automatically downloads.
Yule Ritual
On Winter Solstice, before your altar, light a candle, to represent your spirit burning strong. Bring a part of the living Earth — a plant, a rock, a twig, some water.... Burn some incense or smudge, asking it to clear the space for this ritual and song.
Bring to mind an image of the future of the Earth and humankind as you would dream it.
(You may want to read this blog for an idea of that wonderful future: How Your Imagination Can Change the World.)
KNOW that you are creating this world with your actions, thoughts, and speech. KNOW that humanity IS evolving, and that there is hope. Invite the Deities and all your allies to assist in this transformation, and to help Mother Earth hear you as you speak to Her now. And then play the mp3 and sing along with it...
With Brightest Blessings,
erin Dragonsong



Return from Yule Prayer Song to Wiccan Holidays