How To Start Your Own Online Business,
and Make Money on the Web
FREE
E-Books and
Master Courses
You can download for free these great resources that will guarantee your online success.
Could you use extra cash? Thinking about making money on the web?
These are the very books and courses I used to make my passion into an income-generating web site.
Perfect for work-at-home moms, and anyone who wants off the job-treadmill.
Have you ever wanted an online business? Want to make money from home, even while you're sleeping?
Sure, who doesn't? That's why tons of people are starting their own websites.
Sadly, most of them will fail… only because they lack the knowledge and tools that will make it succeed.
That is the one difference between people who make a website, and people who succeed in making money online. Anyone can make a website. People who make MONEY know the rules and have the right tools.
I've made a lot of websites, and written a lot to help people who wanted an income from the web.
Now I want to share with you the best website tip I have.
I want to share it because I bet you have a hobby or interest that you could turn into an income too!
And you, like me, might want to make money on the web.
How I Failed At Online Businesses
I've made my own websites for years, theoretically to earn money as well as share some ideas with the world.
Somehow, though, they never took off. I didn't get the visitors I'd been hoping for, and I certainly didn't earn much income from them.
My Breakthrough Moment
Then I found out about SBI! and the rest is Wicca Spirituality history.

Finally, I'm reaching a large audience -- Wicca-Spirituality.com is one of the top Wiccan websites in the world! And I make money on the web along the way. This is important . . . otherwise, how could I spend all this time offering you unique information like this website has?
Honestly, SBI! has made all the difference. I've had other sites that didn't use SBI!, so I can compare. Believe me, there's no comparison.
And it's so easy! I don't have to know HTML, or how to let search engines like Google know that I've got a new page up, or how to "ping" for Blog pages.
When I started, I didn't even know what pinging meant! And now I know enough to know that SBI! does it all for me, and I don't need to know more than that.
The Magick Of SBI!
You might be able to guess that I am a total fan of SBI! How could I not be?

I get to work at home, and set my own hours.
I get to play all day at something I love ... sharing Wicca with you!
I finally get to be a writer, with thousands of pages of my work read every month.
It's making my dreams of a successful online business come true!
And I get the added bonus of feeling like I'm doing some good in the world.
And I'm not the only fan, not by a long shot. Check out these fun homemade videos on Why We Love SBI!
SBI! has taken everything that's hard, confusing, complicated, and tedious out of making your own website.
Now having an online business is simple, fun, and best of all, successful!
Check out this video quick tour, to see what it's about.
Web Site or Web Business?
You can make your own web site or you can start a web business. . .
What's the difference?
Only one . . . a web site is a hobby you pay to enjoy, and a web business is a hobby that earns money for you.
While you're sleeping, eating, cruising the net, taking vacations with your family, a successful online business makes you money every day!
Even when you are ignoring it!
How great is that!

Why Most Web Sites FAIL
Lots of people will offer to create a web site for you. They'll charge you an arm and a leg for it too. And it's money down the drain.
I know . . . I've seen way too many of my friends and family go down this route.
They think they're paying for a web business, but at the end of the day, they've got a pretty (hopefully) and useful (occasionally) online business card. That they paid several thousand dollars for.
Or else they decide to make their own website, with pretty much the same result.
No traffic.
No income.
It doesn't take long for people to decide that they can't earn money online, and drop their dreams of an online business.
Thank Goodness, There's An Alternative
Now, I've got them switching to SBI! Because it doesn't just help you create a website that the search engines and your visitors love. . .
It helps you make an online business that earns you a nice income.
Take it from me. My other websites had maybe a few hundred visitors, and altogether made less than $50 a year.
Now Wicca-Spirituality.com has around 30 thousand of visitors every month, and the difference really shows in the income column.
The Best System Anywhere
As if that's not enough, SBI! has managed to make some of the best web business tools available for a price that is hardly more than the cost of real online hosting -- the kind that's necessary for a real online business -- plus a domain name.
Both of which are included!
Too Good To Be True? That's What I Thought, Too!
I know, it sounds too good to be true. I thought so myself. I didn't start with SBI! for 4 years after I heard about them, because I couldn't believe it.
Well, it turns out that it is absolutely true, and I just wish I'd started 4 years ago! I'd be on my third SBI website by now, instead of my first.
But it's not too late. Check it out. If you try it and then think I was exaggerating, write me and I'll publish a formal apology.
I'm putting my reputation behind this, because I believe in it 100%.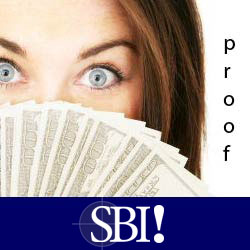 And because I'm excited about the opportunities it offers to other people, like you!
You can make money on the web.
I completely believe that anyone can do this. It's a fantastic opportunity, and one that is way under-utilized.
Be Warned: It's Not Perfect
Of course, it's not perfect. I'm not thrilled with the mail program, for instance. But that's easily overcome, and they're always tweaking SBI! to make it better and better.
And even with its few flaws, it's totally worth it! To finally be successful in a web business is worth a few frustrations, in my opinion. After all, nothing's perfect.
And if you know of something better, believe me, I'd be happy to hear about it.
But in all my years of creating websites, I've never found anything else that even remotely comes close.
If you have ever thought you should make your own web site, or if you dream of a starting an online business that will make you money while you do other things, you owe it to yourself to check out SBI!'s service.
See the video quick tour. It's the best introduction to what SBI! offers.
Simple Is The Key
You don't have to download any programs with SBI. It's all there for you on the web.
They make it simple. They do all the work, creating and upgrading the system.
So all you need to do is plug in your information and voila, you are the proud owner of a sharp new online business.
They give you templates to use - and adapt - if you want. You can upload your own HTML if you prefer, though.
They supply the tools to figure out what angle you can use to make your online business a success.
They do all the fussy work that takes uncountable hours, like alerting the Search Engines to every page, whenever you make changes. . . and only when it's needed, never when you'd be penalized for too many submissions.
They check all your web pages to make sure they are "Search Engine Friendly," so that the engines can find your stuff and will show it to others who are actually looking for it.
They keep track of all your links, informing you if one's broken.
They give you tons of information like what traffic you're getting, on what pages, from where, etc. And how each page is ranking in the search engines.
They even find you people to share links with, to build search engine credibility.
Plus, the online help forums are incredible. I've never seen a forum so useful and friendly. Every question I've had, the forums have answered, and Wicca-Spirituality.com is the result.
Perhaps most important: They supply tons of hard-earned know-how, to guide you step by step through the process of creating a success web business.

Everything you need to know. . . they read the tons of journals, keep up on all the changes, and filter it into concise information that you need to know.

This step alone saves me hundreds of hours a year!

And to have super-skilled mentors virtually holding my hand through the process was priceless.
And that's just the tip of the iceberg.
I know, it sounds impossible.
But it's true. Believe me, I couldn't have done Wicca-Spirituality.com without SBI!
If you have any interest in making money online or even just having a fun hobby that pays for itself, you should at least check this out for yourself.
If you don't, you will miss out on an incredible opportunity.
Think Making An Online Business Is Not Something You Can Do?
It's really not rocket science. Use the right tools, follow the right rules, and you can do this too.
SBI! provides both the tools and the "rules."
All you need is a brain, and something you're interested in. It doesn't even need to be something you know a lot about. . . as long as it's something you want to learn more about.
You can create a successful website. Everyone has something they know about.
And other people want to know what you know! Don't take my word for it. Google it. See how many web sites come up. If you're into it, you can bet so are a whole lot of other people.
People are just waiting for someone -- like you -- to tell them more about it.
For example . . . If I can do it, with something as obscure as Wicca Spirituality, just imagine what you could do for an online business, with your hobby, specialty, or area of interest!

You don't even have to sell anything. Just offer information on whatever interests you. Let Google's Ads or other affiliates do the rest.
See what others have done.
The opportunities are just boundless.
To learn more about it, take the video quick tour. This is really the best way to see how SBI! helps you create an online business that works.
Then decide for yourself if you would like a web business that earns you money day and night, long after you've built it and moved on.
That part, I can't answer for you.
What I can tell you is that if you are serious about earning money online, SBI! is absolutely the way to go.
Still have questions? You can get specific answers here.

And that's my best website tip ever. May you take full advantage of it.
Hope to see your site online soon!