The Day of the Dead —
Celebrating Those Who Have Passed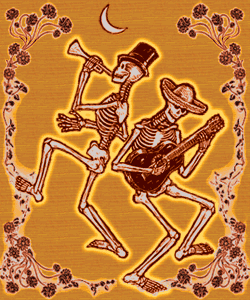 The Day of the Dead is a tradition that is so rich and nourishing that, even forgotten for a time, it is well worth returning to. As summer is far behind us and winter is looming close, the Veil Between The Worlds becomes thin and transparent.
Those who have passed beyond life are once again within our reach,
if we desire to be near them once more. This is the essence of the Day of the Dead.
Reaching Across The Veil
At the turning point of the Earth calendar at October 31,
it is a natural time to honour what has come before and what we leave behind.
As Pagans, we begin our New Year by remembering our beloved dead around October 31 / November 2. It is called, by various cultures, Día de los Muertos, All Souls' Day, Dia de Finados, Dia de los Ñatitas, Araw ng mga Patay, Bon Festival, Chuseok, Ching Ming Festival, Gai Jatra, among others. As modern Wiccans and Witches, we celebrate it as Samhain. This is a traditional time for Pagans and even Christians to gather to reconnect with and honour their beloved dead — those friends, lovers, family members, mentors, hero/ines, and animal friends who have passed on to the Dark Light.
The Day of the Dead vs. Samhain
Samhain is the traditional Wiccan Sabbat ritual, and it is held on Oct 31. It often involves taking a trance journey and "traveling" to the Isle of Apples, in the Sea of Mists, to visit with our loved ones again. Day of the Dead is a traditional Mexican celebration, and, as demonstrated above, very similar traditions exist in many cultures around the world. On Nov 2, people gather at the gravesites of their loved ones, bringing food and offerings, and mementos of the dead to create an altar. Both traditions stem from the belief that our loved ones are not extinct, but live on somewhere on other planes of existence. AND that they are available to us when the veil between the worlds becomes very thin, in this season.
This means that death is not a reason for mourning, but — if we could get past our own feelings of loss — a reason for celebration.
So it is appropriate at these celebrations to make merry. When we visit the graves or spirits of our loved ones and ancestors, we aren't gloomy — we're happy to be literally visiting with our loved ones again!
For many Wiccans, these two celebrations have blended together,
and rituals incorporate elements from both.
Remembering, Reconnecting with our Beloved Dead
Many cultures believe that the dead can hear our thoughts when we are thinking of them, especially in this season. How grateful they must feel for us to be taking time to honour their contributions to our lives! And mediums, who speak for the non-corporeal people, tell us that our prayers and candles help our beloved dead to leave behind pain and sorrow, and move forward brightly in their new "lives." In any case, through our devotion to their memories,
our loved ones live on in our hearts and minds, and we are enriched with our remembrance of them.
In modern times, we rarely live near the gravesites of our families and loved ones. But we can still celebrate the Day of the Dead through ritual, like
this one
.
With Brightest Blessings,
erin Dragonsong



Return from Day of the Dead to Wiccan Holidays