Magical Vacation Home Rental Cabin
Private Retreats on Denman Island, BC!
Are you yearning to get back to nature, and rediscover your balance?
Cedar Blest Magical Vacation Home is a perfect spot for a ...
Restful meditation retreat
Rejuvenating yoga retreat
Inspiring artist's retreat
Undisturbed writer's retreat
Peace, quiet, privacy, and nature. That's what it's all about.
No matter what your religion, Denman Island is a very accepting and welcoming community of spiritually-inclined people. It's a place where people of all faiths come to commune with nature, and feel like part of Denman's warm community.
If you're looking for a peaceful country getaway in a place where you can relax and be yourself, find your centre, and commune with your soul, Cedar Blest is just what you're looking for.
Peace, Sunshine, and Natural Beauty
This peaceful, undiscovered West Coast treasure is perfect for super-relaxing R & R.
The Nearby Denman Island Beach: Peaceful and Welcoming
The Island is mostly undeveloped, and the natural setting is enjoyed by its residents, including the wildlife. Most Denman Island homes are rustic and creative, integrated into the natural landscape.
Denman Island, despite being in a lush green rainforest, is extremely sunny and dry in the summer time, making it a wonderful vacation spot.
Like to shop for arts and crafts? Denman Island is overflowing with artists studios you can visit and browse.
You can also . . .
hike,
bike,
kayak,
canoe,
swim (at the ocean or one of two lakes)
and wildlife-watch to your heart's content.
Privacy, peace, arts, natural beauty — Denman Island has it all.
If you're looking for a B&B on Denman Island, consider having a vacation rental home all to yourself instead.
Exclusive Wicca Spirituality Offer
This Summer Only
Wicca-Spirituality.com is pleased to showcase this wonderful vacation spot and private medtiation or artist retreat!
Mention where you found out about Cedar Blest Vacation Home Rental and receive 50% off a Tarot Card Reading or Palm Reading with your booking!
Rates for Cedar Blest Vacation Home Rental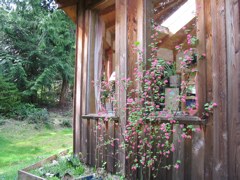 Outside view of Cedar Blest Vacation Home Rental Cabin
With Wild Currant Bush - Our Natural Hummingbird Feeder
Cedar Blest Vacation Home Rental is the best value on Denman Island.
Rates are only $550 per week for 1-2 people (double-occupancy).
Special Retreat Rate is only $1750 for one month.
Pets
Dogs are allowed at Cedar Blest Vacation Home Rental upon approval, and if they are well-behaved, controlled, and quiet they are most welcome.
There is a $100 charge per four-legged friend, per week.
Your dog must be accompanied by at least one well-trained owner, must come with their own bed and/or crate. There isn't a fenced area for them. They may not be left in the house alone.
Puppy Meets The Ocean
on the Nearby Denman Island Beach
For the enjoyment of yourself and future guests, you must clean up after your pet.
This island is a natural setting that includes wet lands and shrubs which provide nesting for a variety of creatures, and wildlife such as deer roam freely. Your dog must not disturb the wildlife under any circumstances, and must be on a leash at all times.
This is for your own and the dog's safety as well, as there is a $1000 fine or imprisonment if your dog chases wildlife, and it may be even killed by a Conservation Officer or farmer if it is running at large.
Please be aware that it is unsafe to leave an animal alone in a car, even with windows open, for as little as 15 minutes. For more information, see Pet Safety and Heat Stroke Symptoms. (You need to scroll down the page a bit.)
Terms for Cedar Blest Vacation Home Rental
Along the Walk to the Beach
Payment & Deposit:
A payment of 50% is required for a deposit to secure your booking. Deposits may be paid on Paypal, by credit card on Paypal, or by INTERAC Email Money Transfer (Click for info.).
The balance of payment is due in cash upon arrival.
A $200 cleaning and security deposit will be refunded after post-rental inspection.
Cancellation policy:
For cancellations, a 1 month notice is required to reimburse deposit.
Other Details:
Check-in time is 3 pm. Check-out time is 10 am. (These times may be flexible if arranged in advance.)
This is a non-smoking house.
Please be advised that this is a very quiet neighbourhood, and partying will not be allowed. This rule is strictly enforced -- violators will be turned out and forfeit their payment.
To make your deposit by Paypal or Credit Card, please confirm your dates by phone or email, then:
Book your magical vacation home rental now
and receive 50% off a Tarot Card Reading or Palm Reading
when you mention this ad!
More About Denman Island, BC, Canada
View of Hornby Island Ferry
Denman Island is truly West Coast living. This quiet Northern Gulf Island has around 1000 full-time residents and maintains is pleasantly rural character. The majority of Denman is covered with forests of fir, cedar, hemlock, and the beautiful magickal arbutus (madrone).
So wildlife is incorporated into daily life. It is common to come across deer grazing, bald eagles soaring, hawks and owls calling, and bold woodpeckers hammering for their meals.
This also means, take it slow on the roads to avoid accidents!
Along with two rustic lakes, Denman Island offers wonderfully relaxing vistas and beaches that you often have to yourself.
Denman also offers many services ...
a choice of places to dine,
a grocery store with liquor, gas, and propane,
a bakery with wonderful soups and pizza,
a bookstore with plenty of spiritual and gardening books and gifts,
a video rental spot,
a cooperative women-run Craft Shop showcasing many of Denman's renowned artists' and artisans' wares,
a hardware store,
a small library,
a post office,
a recycling depot,
a museum boasting of local historical items,
regular art shows,
Saturday morning farmers markets,
even East Indian imports!
Denman Island is well-known for both its artists and its gardens...
Many artists have open galleries where you can meet them and see their newest work, in everything from ceramics to glassware, fabric arts to paintings.
And of course there is lots of Island-grown produce in the summer, much of it organic. The Saturday morning markets at the recycling depot are the best place to shop for produce, homemade jams, crafts, and even get a seated massage!
Of course, being a quiet little community, there are some things that you can't get on island. Taxis for one thing.
A bank machine is the biggie... the nearest one is at the Buckley Bay Petro-Can gas station, just before you get on the Denman ferry. So pick up cash there! Or bring your credit cards and debit cards, which most of the stores take.
A tip: This spot routinely has the cheapest price on gasoline around.
Getting To Denman Island
Denman Island Ferry Coming In To Dock
The ferry to Denman Island leaves from Buckley Bay, which is about an hour and a half north of Nanaimo, on Vancouver Island.
The first ferry off the Island leaves at 6:40 in the morning, and first ferry to the Island leaves Buckley Bay at 7 am.
The last ferry to Denman leaves Buckley Bay at 11 pm, and the last ferry off Denman Island is at 10:40 pm.
Unlike the Vancouver ferries, you only pay getting onto Denman. The return is free.
See Getting Here on DenmanIsland.com for up-to-date information about ferry schedules and rates.
The ferry trip only takes about 10 minutes, and in nice weather it's common to see people out on deck enjoying the trip.
View from the Ferry
The Denman ferry is scheduled to leave pretty much every hour on the hour, but in the summer rushes it will often shuttle back and forth on no particular schedule to keep up with the traffic. Sometimes helpful, sometimes a bit inconvenient, but it's pretty much the last traffic you'll see, once you get on the island!
And you can take the opportunity to grab a popsicle or snack at the gas station, and pick up some fresh seafood from the Fanny Bay Seafood Shop underneath the gas station store. They not only have fresh and frozen fish and shellfish but take-out items like yummy sushi and seafood chowder.
If you like popcorn, try a bag of the local popcorn from the gas station!
Book your magical vacation home rental now
and receive 50% off a Tarot Card Reading or Palm Reading
when you mention this ad!
Helpful Tips
Close-up of Wild Sweet Peas at the Nearby Denman Island Beach
Denman Island is in a temperate rainforest, which gives it its lush green appeal all year long.
Happily for vacationers, though, it gets most of its rain in the mild winters.
Temperatures on Denman are seldom less than -5 Celsius on the coldest days. We can sometimes get wondrous, heavy snowfalls, and we're free to enjoy them more than most of Canada, because they usually melt off within a few days.
Summers on Denman are sunny and warm, with temperatures usually in the low to mid 20s Celsius. Few days get above 30 degrees, although that seems to be getting more common.
There is a complete fire ban during the summer months on Denman Island, and the dryness of the flora make it very wise to follow the rules completely.
Drinking water is at a premium on most of the Gulf Islands, and Denman is no exception... especially in the dry summer months. Please conserve water as much as you can.
Denman Island offers all the tranquility you crave, and there are many activities to enjoy too.
Touring the artists' studios
Sampling the fine organic coffees and homemade treats "downtown"
Cycling
Exploring the island on rented scooters
Birdwatching
Beachcombing and exploring the tidal pools
Sunbathing
Swimming in the ocean, or one of the two lakes
Kayaking
Hiking along forest trails
Attending world-class concerts
Taking one of the many yoga classes, or even getting private lessons in your B&B (ask us for details)
Other Resources for the Denman Island Visitor
DenmanIsland.com has tons of Denman Island BC information for visitors and new residents.
Such as...
Current Denman Island Weather Forecasts

Info on Denman Island Provincial Parks

Denman Island Home and Garden Tour Info
Denman Island Pottery Tour has info on the upcoming tour as well as links to its showcased potters
A Guide to the Arts and Classes at Denman Island Arts Center
Tide Charts for Denman Island, British Columbia
DenmanLinks.com is a directory of Denman Island businesses, resources and activities