How To Decorate Your Pagan Altar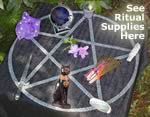 In decorating your Wiccan or Pagan altar, reflect where you are right now.
Select your altar cloths and altar items to match the seasons, celebrating the part of the Wheel you are riding.
Or you can choose to decorate your altar to match an energy you want to increase in your life. (See below for some sample Altar Decoration Ideas.)
What goes on a Pagan altar? Just about anything you want.
You can use herbs, leaves, branches, rocks, shells, carvings of animals, tarot cards, rune stones, pictures of deities, and anything else that represents . . .
An energy that you wish to invoke or manifest in your life,
Something that you wish to honour,
A gift of gratitude to the Divine,
Anything else you wish to bring to your sacred space.
Manifestation Magick With Your Altar Decorations
When you create a Pagan altar, you are creating magick.

When you want to manifest something in your life - a deity, or emotion, or physical object - you can do that with your altar decorations . . .
Put its symbols on your altar, front and centre.
Surround it with supporting elements . . . other things that attract that energy.
Spend time giving these symbols your attention and energy every day.
And you will find it starting to appear in your life.
In essence, decorating your Pagan altar is crafting a spell for your well-being.
Keeping this in mind will help you choose just the right altar decorations for your needs in the moment.



Pagan Altar Decoration Ideas
Here are some ideas in altar decoration for certain emotional states . . .
Feeling Depressed

Feeling Anxious

Altar cloths


Sunny Yellow


Altar cloths

Purple
Deities
Your Matron God/dess, Isis, or Kali
Deities
Demeter, Tara, Artemis, or Ganesh
Candles
White
Candles
Light blue
Flowers
Cheerful, daisy-type flowers
Flowers
Violets or anemones
Stones
Amber
Stones
Amethyst
Scents
Eyebright, St John's Wort, Savory, Thyme, Borage
Scents
Lavender, Eyebright, Sage
Other
Drink St John's Wort tea
Other
Potted flowers, Drink chamomile mint tea

Feeling Blue

Feeling Fearful

Altar cloths

Pale pink
Altar cloths

Light Blue
Deities
Brighid, or Mary
Deities
Artemis or Kali, Dancing Shiva or Pan
Candles
Yellow
Candles
Yellow
Flowers
Violets
Flowers
Chrysanthemum
Stones
Rose quartz
Stones
Black hematite- no crystals!
Scents
Violet, Pine, Borage
Scents
Snapdragon, Eyebright, Basil
Other

Sea shells


Other

Big pine cones


Feeling Despairing

Feeling Stuck

Altar cloths

Bright red
Altar cloths

Bright green
Deities
Kwan Yin, Mary, or Yemaya
Deities
Dancing Shiva, Kali, Danu, or Brighid
Candles
White
Candles
Red
Flowers
Tiger lilies
Flowers
Cuttings of green branches or flowering fruit trees
Stones
Pearl
Stones
Quartz crystal
Scents
Lavender, Rosemary, Mint, Borage
Scents
Motherwort, Mint, Mandrake, Basil, Anise
Other

River stones


Other
Red ribbons on your athame

Feeling Stressed

Feeling Irritable

Altar cloths

Purple
Altar cloths

Pale pink
Deities
Matron God/dess, Voluptus, or Lalita
Deities
Kuan Yin, Green Tara
Candles
Ivory pillar candles
Candles
Sky blue
Flowers
Pastel colors and green leaves
Flowers
Narcissus or Daffodils
Stones
Hematite or amber
Stones
Moonstone
Scents
Vervaine,Thyme, Lavender
Scents

Tarragon, Passion Flower

Other

Eat cucumbers


Other
Drink Chamomile Tea


Feeling Poor

Feeling Spiritual Apathy

Altar cloths

Gold
Altar cloths

Black with stars (silver or gold)
Deities
Lakshmi, Gaia, or Moon Mother
Deities
Matron God/dess, or Tara
Candles
Silver
Candles
Silver, Gold, or Sky blue
Flowers
Lush garden roses or large bouquets, Hollyhocks
Flowers
Yellow and pink roses
Stones
Rose quartz and pearl
Stones
Turquoise
Scents
Rowan, Alfalfa
Scents
Sandalwood, Myrrh
Other

Fruits, nuts, bread pentacles


Other
Decorate your chalice with flowers, colours, shiny things

Feeling a Creative Slump

Feeling Spacy or Ungrounded

Altar cloths

Orange
Altar cloths

Brown
Deities
Brighid, Saraswati
Deities
Gaia, Artemis/Diana, Green Man
Candles
Turquoise (if you can stand it) or red
Candles
Brown or Black
Flowers
Lotus, Water lilies, Orchids, Jasmine
Flowers
Geraniums
Stones
Lapis Lazuli or Herkimer diamond
Stones
Hematite
Scents
Vervaine, Mandrake, Jasmine
Scents
Wisteria
Other

Decorate with Stars


Other
Potted plants

Needing Healing

Wanting Love

Altar cloths

Spring Green
Altar cloths

Dusty rose
Deities
Green Tara, Hari, Medicine Buddha
Deities
Aphrodite, Venus
Candles
Yellow
Candles
Red
Flowers
Jasmine
Flowers
Irises, Plush roses (red, peach, or pink)
Stones
Amethyst
Stones
Moonstone
Scents
Rosemary, Pine, Juniper, Jasmine, Hyssop, Ginger
Scents
Lovage, Rose, Vervaine, Rose Geranium, Periwinkle
Other




Other
Create Your Own Pagan Altar Decorations

These are merely sample altar decorations, to get you started.
There are countless other ways to decorate your altar for each of the situations above. What works on your Pagan altar may be different than what is suggested here.
The best way to tend your Pagan altar is to create the sacred space that nurtures you.

Remember, if you are just following the "recipe" someone else has written, the magick will not be as powerful as the spell you create for yourself.
Explore the meanings of colours, for one that suits your intention.
Find the gemstone that holds the energies you need.

Choose a sacred scent based on the feelings it stirs in you.
Study the Wicca Goddesses and Gods to find one that speaks to your situation.
Play with different Pagan and Wiccan Symbols.
Let your intuition guide you. What feels good to your heart will be what serves your altar best.
Play with it, and you'll find the best Pagan altar decorations for your needs.

If you enjoyed this article, please Stumble it! It only takes a second to share the good stuff with other seekers. (Link opens in new window.)



If You Liked Decorating Your Pagan Altar, You May Also Enjoy
These Related Articles . . .
New material is always added; please subscribe to our RSS / Blog or The Silver Chalice E-zine to receive updates and unique articles.


What Goes On A Wiccan Altar? The only limit to what you can put on your Wiccan altar is your imagination! Still there are certain standard items found on most Wiccan altars. But before we go into that, it's most important to ... Read More
Altar Tools What do you need on your altar? A Wicca altar doesn't have to be complicated or costly. You don't really need anything other than what you have on hand, but you might want the customary Tools of the Witch Trade . . .
Getting Started With Wiccan Tools Getting started with Wiccan tools and other ritual and spell-casting items is easy. You just need to know these 4 things . . .
Wicca Goddess Symbols Goddess symbols and Wicca symbols are almost interchangeable. The Goddess symbols on this page represent the Goddess in Wicca, and in other spiritual traditions as well . . . Read More
Wicca God Symbol What is the meaning behind each Wicca god symbol? This list will introduce you to some of the most common symbols of Gods found in Wicca . . . Read More
A Wiccan Altar Is Magick You may think your Wiccan altar is decoration . . . Just something to put up, and then leave it sit there. But what you will discover is that the state of your altar mirrors the state of your life... Read More

Return from Pagan Altar to Altar Basics