Select a Payment Option to Get Started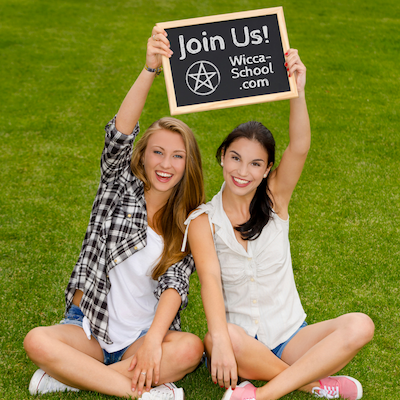 Almost there!
Good on you for taking this step in the direction of a better, happier life, and a better happier world!

Just one more step to take before you begin your Year & A Day journey into Wicca and incredible spiritual transformation.
(If you've missed what it's about, please see: A Year & A Day: 53 Weeks to Becoming a Wiccan.)
I'm sure you remember I mentioned a sliding scale option for those in financial straits to whom the price of the course is out of reach... To begin your enrolment, then, all that's left is to
select the appropriate payment button to start your Year & A Day.
Click on a Button to Begin Your Year & A Day!
Sliding Scale: Pay Per Month (13 months total *)
Sliding Scale: Pay Per Year... & Save
The Sliding Scale Is For You If ...
Please avail yourself of the opportunity the sliding scale offers if there's no other way for you to take this course. Here's a little test to see if you qualify...
If you lack sufficient income to pay for basic survival needs
If you can't afford things like healthy food and fancy coffee
If you can't pay for alcohol, cigarettes, or other optional items
If your entertainment budget is less than $70/mo
If there's genuinely no place in your budget you could cut back to pay the actual price
In other words,
the sliding scale is meant only for people who are on subsistence-level incomes,
who honestly could not take the course if they had to pay the full price. Of course I rely on your integrity to make this decision for yourself. I just want to make this irreplaceable Wiccan and spiritual training available to those who really
need
the help.
If you could pay for the course by cutting back in other areas, please respect the value of the work and of your own spiritual evolution, and pay the regular price.
Thank you!

How Do You Know How Much to Pay?
Check out the sidebar on the right to see if you qualify for the sliding scale. Then determine how much is within your best ability. Since I don't know your particular circumstances, I leave it up to you to pay whatever you're able to offer in return for this unique introduction to Wicca.
Please bring honour & integrity to your choice,
giving as much as you can...
knowing that when you give more, you're
helping those less fortunate get this training.
I can only afford to offer this support to low-income students if others pay the actual price.
And you can be sure, from what you've already seen of my work,
A Year & A Day: 53 Weeks to Becoming a Wiccan
is chock full of unique, original material in a warm-hearted, easy-to-read style. . . exclusive information saturated with my love and respect for you and for the Earth, and insights into Wicca and spirituality you can't find anywhere else. In other words, you know the value of this training is going to far exceed any cost. As all my
students affirm
, it's worth it, and more!
And You're On Your Way...
As soon as your payment is made, you'll receive confirmation of your enrolment
and your first lesson in your Year & A Day!
Thanks for joining us!
I'm so happy to have you as part of the team that is bringing healing and peace to the Earth through your personal spiritual evolution! See you around the "campus"!
With Brightest Blessings,


---

---
---