A Year & A Day
Students' Area
Merry Meet, Wiccan-To-Be!!
Now that you're a registered student of
A Year & A Day: 53 Weeks to Becoming a Wiccan
, all you need is to do is check your email for your weekly lesson's links. Then log in and away you go! Or just drop in to check up on the upcoming Sabbats and the current Moon phase. (
Click here to find out upcoming Lunar events
). And if you need common links for the course, or you want to know what's new, this is the place to come!

Current Updates
Having trouble?
Check this spot first for the latest info!
Then check Maintenance Links below.
UPDATE: Dec 13, 2016
Holiday Hours
I'll be away on a bit of a holiday from Dec 14 - Dec 27. So replies to emails will be delayed until after that date. Once a year, it seems, I just gotta unplug from the net and reconnect with my family! Thanks for your understanding!
Have a super-happy Yule!!
UPDATE: Oct 17, 2016
You now have a Student's Forum!
Please go to this page to find out more and fill out this form
to join the private, secret group on Facebook, only for students of A Year & A Day.
UPDATE: Aug 19, 2016
NEW: Troubleshooting FAQs!
Needing to streamline my time (can't keep up with all the emails), I've created a new page for reporting problems with the course.
| | |
| --- | --- |
| | Can't log in? |
| | Not receiving lessons? |
| | Want to re-enrol? |
| | Payment issues? |
| | Or any other trouble or questions... |
Check it out:
Troubleshooting FAQs & Reporting Form
I ask — nay, BEG — you to check these FAQs for your answers
before
emailing me, so that my time can be spent in the most effective ways possible. (That is, dealing with issues that can't be helped with the FAQs, upgrading the course, and developing new Wiccan training info!

) Thank you!

Can't Wait for the Next Lesson?
Check out some of the information on Wicca-Spirituality.com, especially for Wicca beginners...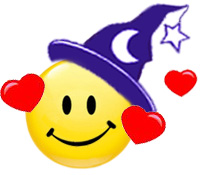 With Brightest Blessings,

Maintenance Links
I beseech you to check the
Troubleshooting FAQs
before
emailing for support! Thank you!

Not Receiving Lessons / Emails?
If you're not receiving your lesson emails, be sure you...
Confirm your email subscription in the verification email you received after registering
Whitelist "@wicca-spirituality.com" (without quotation marks) in your email program (Need help? See these instructions.)
Check your spam and junk folders, in case they got misdirected
Check the Troubleshooting FAQs for additional support if this doesn't fix it.
Other Common Links
Recover your password here.
To change your email address or your password here.
And if, for some inexplicable reason, you want to withdraw from this course

click here.
(Please don't email me to do it for you! For obvious reasons, Paypal doesn't allow merchants to go in and change things in your account.)

---
---
---